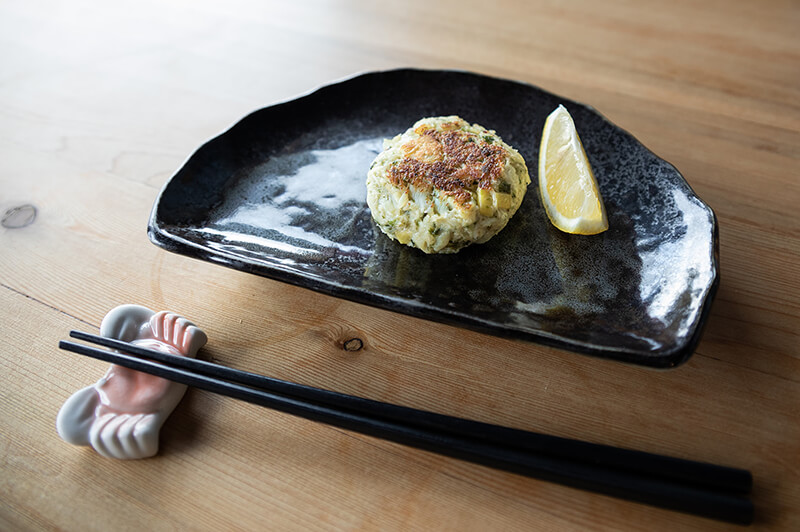 A delicious two-part recipe from Chef Dai Fukasaku to help you savour all of the flavors from your local British Columbia caught Dungeness Crab. Three live Dungeness Crab will be needed to complete both recipes.
Ingredients
Crab Cakes (8 crab cakes/4 servings):
350 grams Crab (body) meat
1 Tbsp. Dijon
100 grams Mayo
30 grams or ¼ US cups Panko
30 grams Mango
2 Tbsp. Dried Parsley
20 grams Pickled cucumber
Osuimono Soup (4 servings):
80 grams or 12 unbroken leg meat pieces Crab (leg) meat
The leg shells of 2 Dungeness Crabs
4 cups (1 Litre) Water
2 tbsp. Locally foraged or store-bought Dried Mushrooms
¼ tsp or a pinch Salt
1 tsp Soya Sauce
20 grams Cooked Spinach
a pinch for each serving Chopped Green Onion
Method
Crab Cakes instructions:
Bring a large stock pot of water to boil. Add in your whole Dungeness Crab and make sure they are all fully submerged in water. Put the lid back on for 4 minutes to bring back to boil, remove the lid and cook for another 8 minutes. Immediately transfer the crab to ice water for 15 minutes or until they are completely cooled down, to prevent them from being over cooked. Filling your sink with ice and water is usually the easiest method.
Start by removing the carapace (top shell), gills and guts. You will be left with the body meat and legs. Shuck the meat from these parts separately and make sure to save the crab leg shells from two of the crabs for your Osuimono. Use the crab meat from the bodies for the crab cakes and crab meat from the legs for osuimono


Put crab meat in a strainer (save the strained juice for the Osuimono).
Check over your shucked crab body meat to ensure there are no shells.
In a medium bowl, mix together all the ingredients for the crab cakes, saving the panko to add in at the end. For a gluten free alternative, just hold the panko and serve the mixture as a crab cocktail or use gluten free panko.
Split the mixture into equal portions and form them into patties (8).
Coat a large skillet with oil and bring to medium heat. Add in the crab cakes and cook in batches until golden on top (2 minutes on each side).
To enjoy the beautiful flavour of your crab, no cocktail sauce, or garnish is needed. If you prefer, you can serve them with a lemon wedge.
Osuimono Soup Instructions:
Take the water and crab shells (only the legs, not the body shells) and add them to a large pot set to medium heat. Let simmer for 90 minutes. Add water accordingly if the water gets low.
When finished, strain out the crab shells, keeping the stock. Return stock to the pot on medium heat. Add the crab juice you saved in step #3 of the crab cake recipe, mushrooms and simmer for 30 minutes.
Add your salt and soya sauce to taste.
Split the crab meat and spinach into 4 equal portions and add to each bowl. Pour the broth into the bowls and garnish with chopped green onion.
Additional:
Have some left over crab meat? Wrap it tight in saran wrap and it will keep fresh for 3-4 days in the fridge. Alternatively, you can tightly wrap and vacuum pack and freeze it. It will stay fresh for up to 6 months your freezer.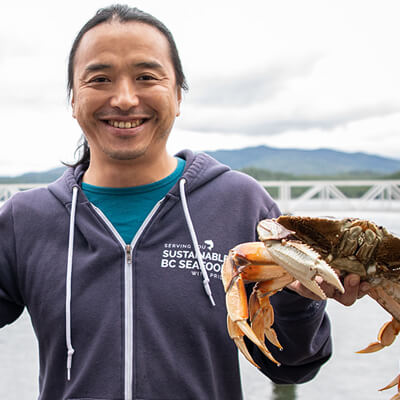 Chef Dai Fukasaku
Chef Dai Fukasaku found his calling to celebrate local sustainable fisheries in Prince Rupert. A Tokyo native, he studied music in Ohio before finding his way to the West Coast. Dreaming of showcasing the best local seafoods, he opened his 14-seat seafood/sushi restaurant called Fukasaku in 2013. This tiny restaurant features pristine BC seafood, harvests, and products, preparing and serving them with love, respect, and pride.