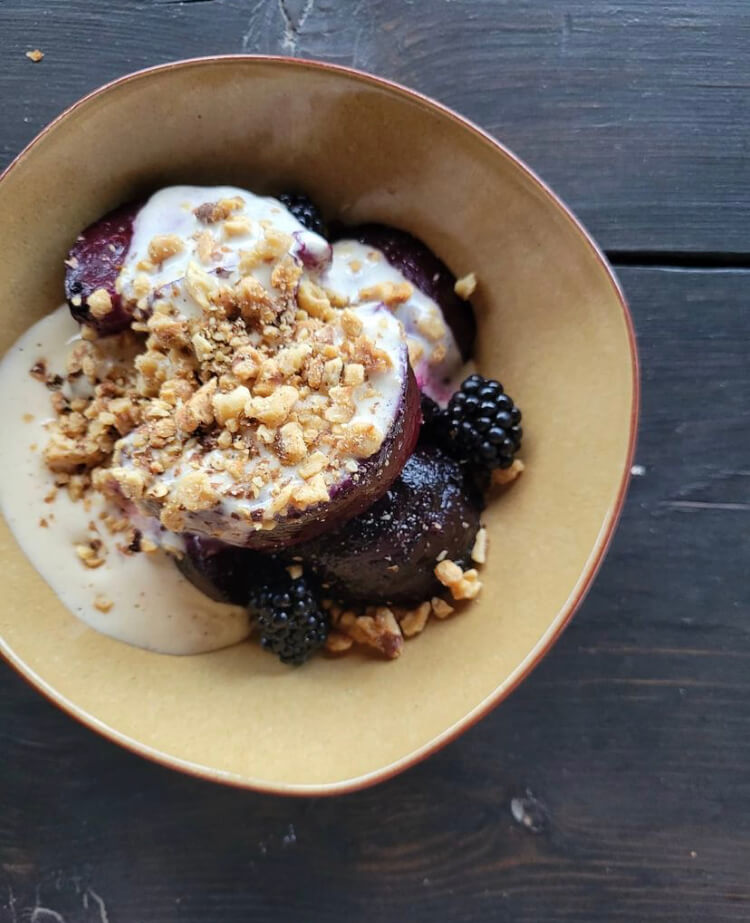 Recipe can be scaled to any size. The smallest is to start with 2 medium sized beets.
Ingredients
Recipe can be scaled to any size. The smallest is to start with 2 medium sized beets
2 medium sized B.C. beets cooked in the embers till soft |or| covered in tin foil and baked in the oven till soft if you don't have access to a fire.
Small handful of B.C. seasonal fruit (blackberries, blueberries in summer | apples, pears, etc in fall & winter)
Toasted & crushed walnut
2 B.C. egg yolks
125 g aged Cheddar cheese
500 g Whipped cream
Salt & Pepper to taste
Red wine vinegar to taste
Organic cold pressed canola oil |or| olive oil
Method
Build a fire beforehand and develop large embers. Wash and soak your beets 30 minutes before you place them in the embers, do not peel them. Cover the beets with embers and continue to keep the fire going. Use a paring knife to check for doneness, there should be no resistance to the beets. Once done place charred beets into a container strong enough to withstand heat from a fire and cover the beets. This helps with the peeling, once they are not too hot to handle, peel the outer charred skin and portion into wedges. Marinate beets in vinegar, oil, salt & pepper.
To make cheddar sauce, 2 yolks, 500 g reduce whipping cream, 125 g cheddar. Over a bain-marie blitz and combine all ingredients into a bowl. Make sure that the bottom of the metal or glass bowl does not touch the simmer water. Stir constantly until the mixture starts to thicken 5-10 minutes. Make sure to not curdle the egg yolks. Keep warm. Alternatively, you can grate aged cheddar on top to finish the dish.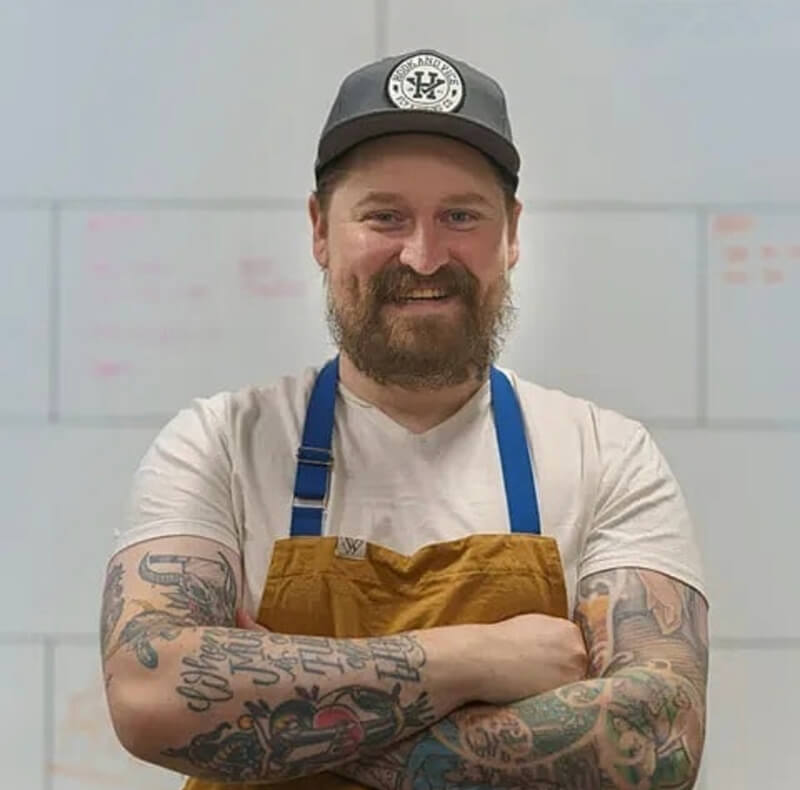 Chef Derek Gray
This fall Chef Derek Gray is excited to be incorporating local B.C. beets into his recipes. The Coal Roasted Beets with seasonal fruit, aged cheddar sauce and toasted walnuts is the perfect combination of smoky sweet, fat and acid and pairs perfectly a nice cider from Untangled.