Serves 2 – 4
Find Wild B.C. salmon at retailers, in restaurants, and at your local fishmongers like F.I.S.H. in Burnaby or Codfathers in the Okanagan. You can also find it at community-supported fisheries all over the province, which give you access to local seafood year-round while paying fishers fairly for their catch!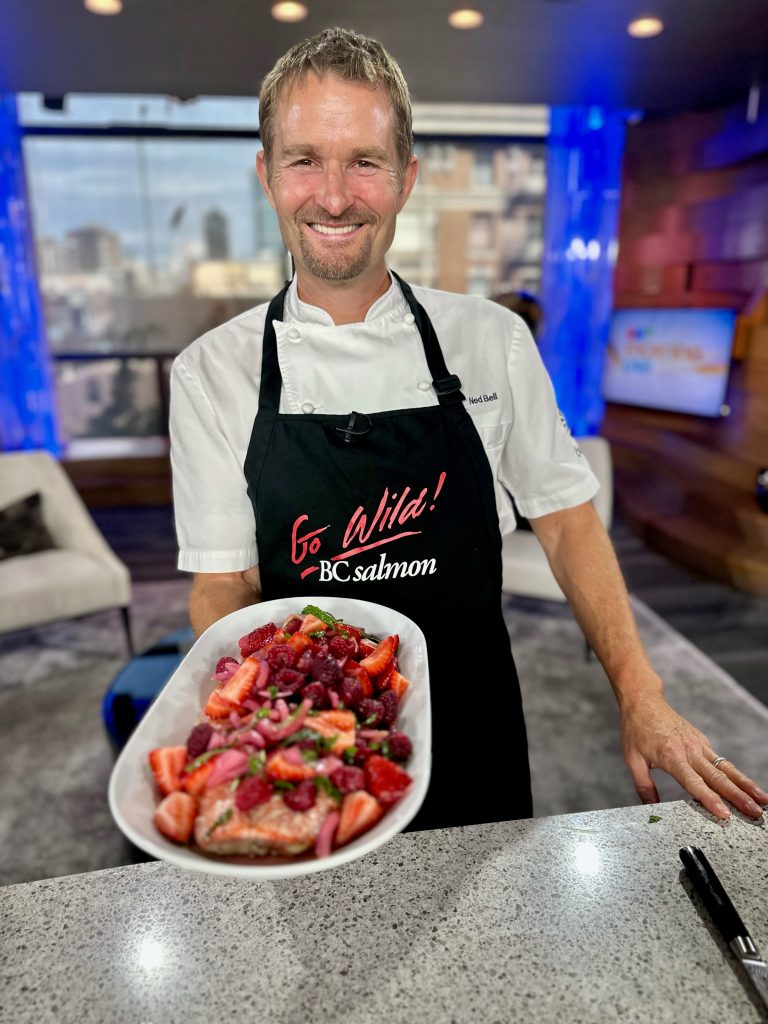 Ingredients:
1 side of fresh or frozen wild BC salmon
1 pint of fresh BC strawberries
1 pint of fresh BC raspberries
½ cup fresh mint, sliced
½ cup extra virgin olive oil
2 red onions
500 ml red wine vinegar
½ cup sugar
250 ml water
Vancouver Island sea salt to taste
Cracked black pepper to taste
Sweet and Sour Red Onions
-Slice onions lengthwise into 1/4inch slices
-In a medium sized pan, add red wine vinegar, sugar, water and salt.
-Add onions and bring to a boil. Once boiling, remove from heat and leave to cool.
-Once room temperature, transfer to a clean jar and place in the fridge to marinate.
Method:
Fish:
Preheat oven or BBQ to 400 degrees.
Lay the salmon on a piece of tin foil, spoon 2-3 tbsp of olive oil on top of the fish.
Season with flaked salt and cracked black pepper. Depending on the species of salmon and the thickness of the fish, bake or grill the salmon for approximately 10 minutes until medium rare.
Relish:
Slice the BC strawberries in quarters, slice the BC raspberries in half, add the mint, the sweet and sour red onions, season with salt and pepper.
Serve the relish on top or alongside the baked salmon.
Serve with a seasonal salad and a loaf of your favorite bread.
Enjoy!
Ned