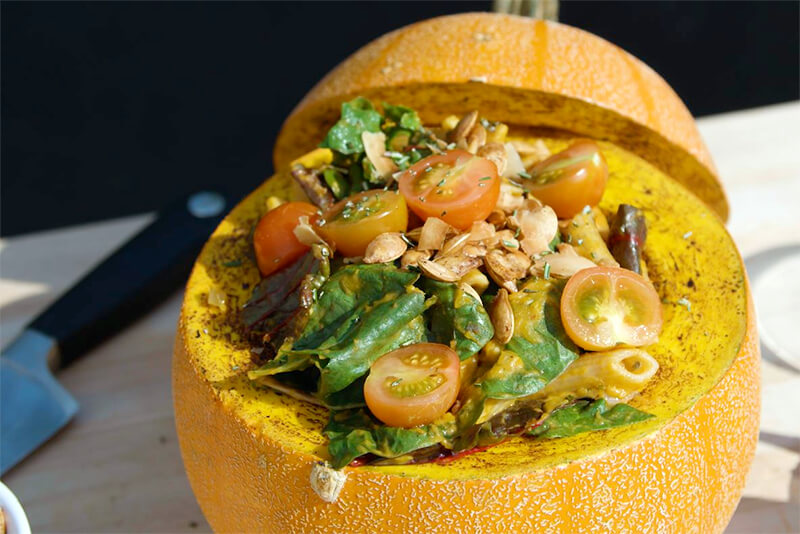 Roasted Pumpkin Penne featuring roasted pumpkin, swiss chard, cinnamon toasted pumpkin seeds, fresh herbs & toasted coconut ribbons. Recipe serves 6-8 people.
Ingredients
Pasta Ingredients:
1 whole pumpkin
2 bunches swiss chard (washed & stemmed)
2 tbsp coconut ribbons or flakes
16 oz dry penne pasta (whole wheat)
1 tbsp cinnamon
Pumpkin Sauce Recipe:
2 tbsp olive oil
4 cloves garlic (peeled & minced)
1 medium white onion (peeled & diced)
2 cups pumpkin (roasted & puree)
1 tsp sea salt
1 15oz can tomato sauce
2 tsp liquid honey
1 cup water
2 cup coconut cream
½ tsp cinnamon
2 tbsp fresh rosemary (chopped)
1 tbsp fresh sage (chopped)
1 tbsp fresh sage (fried – optional for garnish)
1 tsp cracked black pepper
Method
Pasta prep instructions:
pre-heat oven to 350 degrees F
cut pumpkin in half, scoop out the inside & set the pumpkin seeds aside
separate the pumpkin flesh from the outer skin & cut into medium cubes
toss the pumpkin cubes in olive oil & roast until tender, remove from oven and split into one third and two thirds
put the two thirds of the pumpkin into a food processor and puree (use for pasta sauce recipe below)
rinse the pumpkin seeds in water to help clean up, then pat dry with paper towel, toss with cinnamon and spread out on a baking sheet, toast in oven watching closely to ensure you don't burn them, set aside
toast coconut ribbons
wash & chop 2 cups of swiss chard, set aside
cook pasta, drain and add to pasta sauce
Sauce Instructions:
heat olive oil in large saucepan or Dutch oven over medium heat, add onion and pinch of sea salt and sauté until onions are soft and tender (about 5-8 minutes) stirring frequently
add garlic and saute for additional 3 minutes, add the pumpkin puree, tomato sauce, honey, and water stirring to combine, turn the heat to low and simmer for 10 minutes
add the coconut milk, cinnamon, rosemary, sage and stir to combine, simmer for 5 minutes, add sea salt and cracked black pepper to taste
add the cooked pasta & roasted pumpkin and stir to combine
To plate:
heat pasta sauce
cook pasta, drain and add to pasta sauce
add swiss chard
serve in pumpkin!! Or on a platter or bowl
garnish with fried sage, toasted coconut ribbons & toasted pumpkin seeds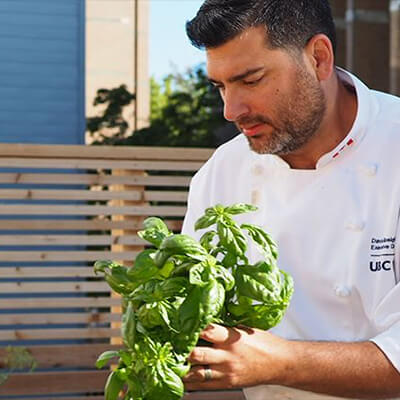 Executive Chef & Culinary Director David Speight
David's passion for food is rivaled only by his dedication to health and sustainability. Born and raised in Vancouver, David is somewhat of a culinary legend at Rogers Arena where, as executive chef for six years, he developed a nutrition program for the Vancouver Canucks, kept 2010 Canadian Olympic hockey players properly fueled for their big games, and frequently prepared gourmet meals for visiting celebrities, recording artists, and heads of state. He also implemented an organization-wide recycling, composting, and food donation program.
David has held executive chef positions at Monk McQueen's Seafood & Oyster Bar and Bridges restaurant. He is a graduate of the Culinary Institute of America in New York.