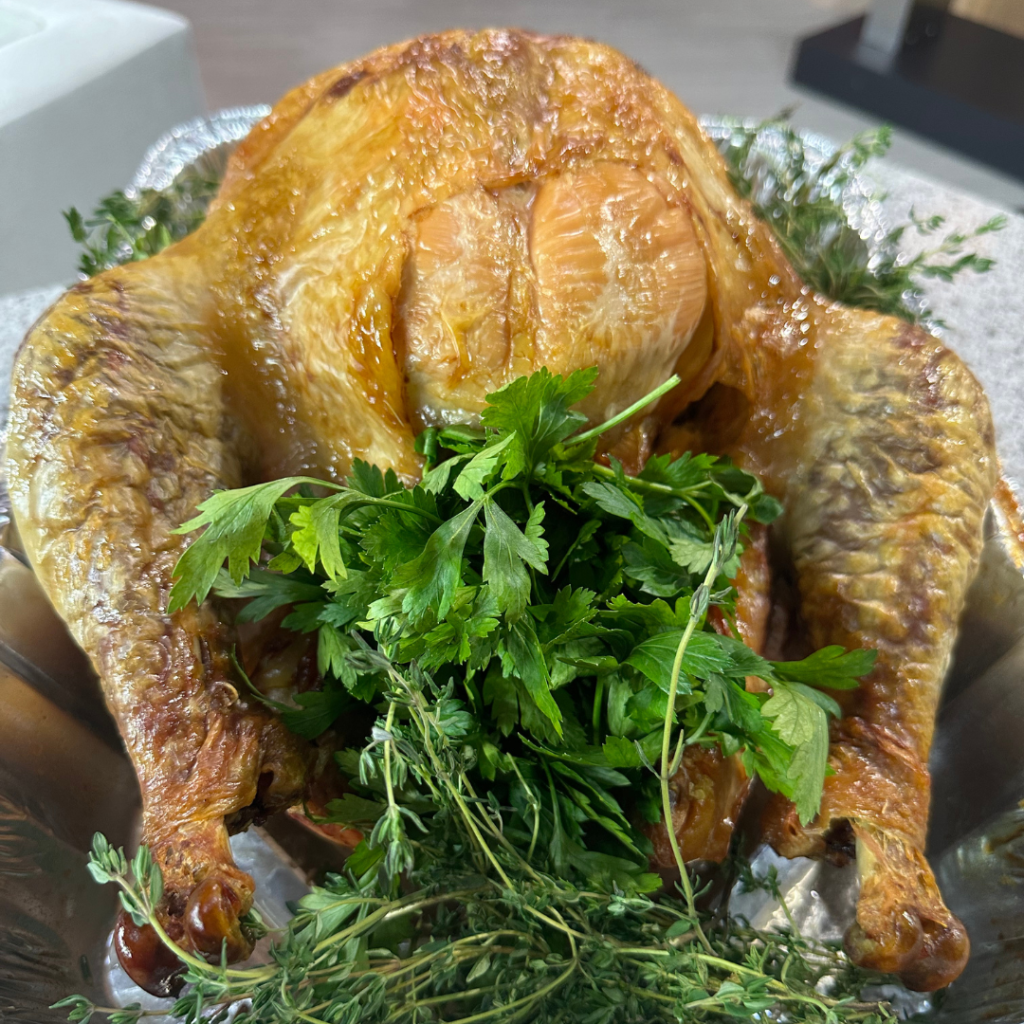 Serve your BC turkey with homemade gravy and pair with BC cranberry sauce, BC Fresh golden potato mash and local brussels sprouts. Enjoy!
Buy BC Ambassador, Chef Ned Bell  
Did you know: Turkey is much more than just a bird on your table at Thanksgiving, it is packed with high quality lean protein that boosts with iron and bursts Vitamin B12. Over 60 BC turkey farmers raise turkeys all year round, equating to over 230 million servings of turkey.
Chef tip: I love brining my birds; turkey, chicken, quail and duck.
It helps retain moisture after cooking and a balance of sweet, salty and sour flavour.
Serves 8 people
Ingredients:
Brine:
18 lb (ish) BC Turkey
1 cup kosher salt
½ cup apple cider vinegar
3 tbsp brown sugar
4 bay leaves
¼ cup black peppercorns
8 sprigs rosemary of thyme
5 cloves of garlic
4 sprigs sage
Rub:
½ lb butter
Sage or flat leaf parsley
Salt
Cracked pepper
2 cups celery
2 cups onion
2 cups carrot
BC cranberry sauce:
2 cups fresh or frozen cranberries
2 cups dried cranberries
1 cup cranberry juice or apple juice/cider or orange juice world as well
½ cup honey or maple syrup
½ tsp cinnamon
1 tsp salt
2 tbsp apple cider vinegar
Method:
Turkey Brine:
Place the turkey in the bottom of a large stock pot or bucket, big enough to submerge the turkey with liquid.
In a pot, combine 1 quart of water with 1 cup of salt, sugar and apple cider vinegar. Bring the mixture to boil and once all of the salt has dissolved, take off the heat. Add remaining 3 quarts of water, let cool. This recipe can be adapted to any amount of water, as long as you use the ratio 4 quarts of water to 1 cup of salt.
Crush garlic and herbs with the back of your knife before adding them to your brine.
Once the brine is cooled, pour brine over turkey. Be sure the breast and legs are covered.
If the turkey floats, put a clean, heavy plate on top of the turkey to submerge it.
Cover pot with lid and/or plastic wrap and refrigerate for 12-24 hours.
After 12-24 hours, remove your turkey from the brine, rinse, and set on a cooking grate to dry. I usually pat my turkey down with a paper towel, so the skin is nice and dry.
Carefully peel back the skin from the bottom of the turkey breast. You should be able to get your whole hand underneath without tearing the skin!
Cut the butter into small cubes, bruise the sage and carefully lay under the skin and on top of the breast. 
Chop 2 cups of celery, onion and carrots and place on the pan under the turkey (these veggies will add more aroma and flavour to the turkey and your gravy).
Roast at 375 F until the skin has become golden, and cook until a digital thermometer inserted into the thickest part of the breast reads 160F.
Let cool and carve!
Serving Suggestions:
Let the turkey rest for 15-30 minutes tented under tin foil.
Strain the vegetables and reserve the drippings for your gravy.
To make the gravy:
Whisk the turkey drippings in a pot over medium heat until boiling.
While whisking, add 2 tbsp flour per cup of drippings. Whisk enough so there are no lumps, or if there are, pass the gravy through a strainer.
Finish with 2 tbsp of white wine (or apple juice) per 1 cup of gravy.
---