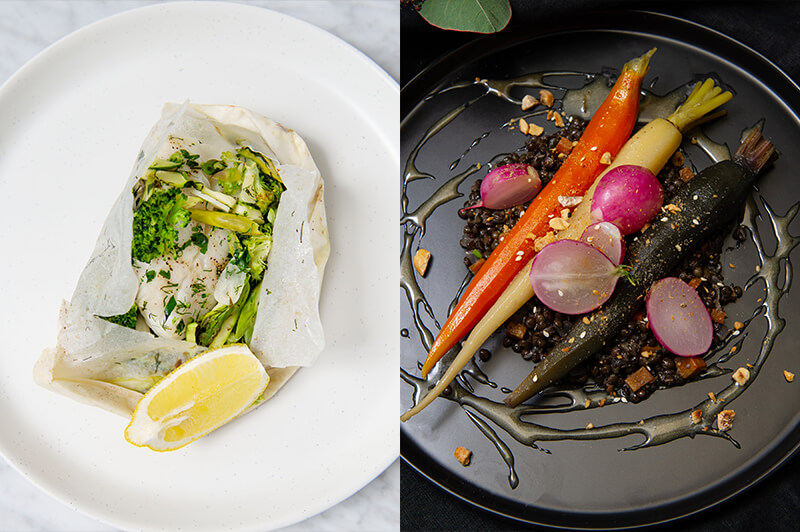 Serves 4
Ingredients
Sablefish en Papillote:
1 Tbsp olive oil
3 medium shallots, finely diced
2 cloves garlic, minced
¼ cup white wine
4 Tbsp butter
4 Tbsp finely chopped Italian parsley
4 at 5 oz Sablefish
8 asparagus spears, trimmed and cut in half
8 thin broccolini stalks, trimmed and cut in half
1 medium zucchini, cut into ¼-inch rounds
Braised Carrots:
1 lb baby carrots with tops
3 Tbsp butter
2 sprigs thyme
1 orange, juiced
½ cup water
Method
Sablefish en Papillote instructions:
Preheat oven to 375 F.
Cut parchment into 15" round circles. Repeat three more times. Set aside.
Heat small sauté pan over medium heat. Add olive oil. Add shallots and sauté until translucent. Season with salt and pepper. Add garlic and sauté for three minutes.
Add white wine. Bring to a boil, then add butter. Season if needed.
Remove from heat and finish with chopped parsley. Set aside.
Fold parchment rounds in half and unfold. Evenly distribute zucchini rounds in the centre of the parchment. Place four pieces of asparagus and 4 pieces of broccolini on top of zucchini. Season with salt and pepper.
Lay sablefish on top of the vegetables. Season with salt and pepper.
Spoon butter mixture evenly over the sablefish.
Bring the parchment edges together and fold several times. Repeat with the other parchment. Place parchment packets on a baking sheet and bake for 20-25 minutes.
Remove from the oven and carefully unfold the packages before serving.
Braised Carrots Instructions:
Trim the tops of the carrots, leaving ½ inch of stalks on.
Heat a large sauté pan over medium heat. Add butter and melt.
Add carrots and sauté for 5-7 minutes. Season with salt and pepper
Add thyme, orange juice, and water. Season with salt and pepper. Cover and reduce heat to low. Simmer for about 8-10 minutes.
Remove and enjoy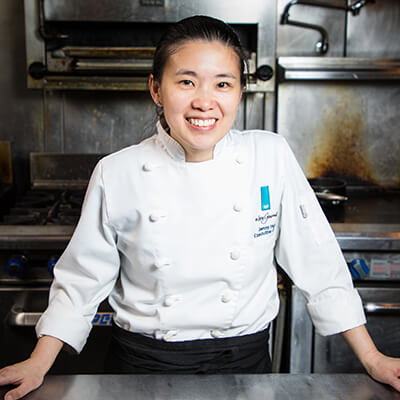 Executive Chef Jenny Hui
Executive Chef Jenny Hui is the friendly and familiar face leading the 22-person kitchen team. For the better part of the past two decades, she has worked closely with Susan to create memorable and diverse menus to suit every occasion and event size. Armed with a Bachelor of Science in Human Nutrition, a Diploma in Food Service Management and her Red Seal accreditation, Jenny brings classical skills and a keen eye for showcasing the ever-present bounty available from B.C. farmers, foragers and fisheries in every dish. She also oversees the Food Sustainability Program and ensures menu items are locally sourced and of the highest quality.