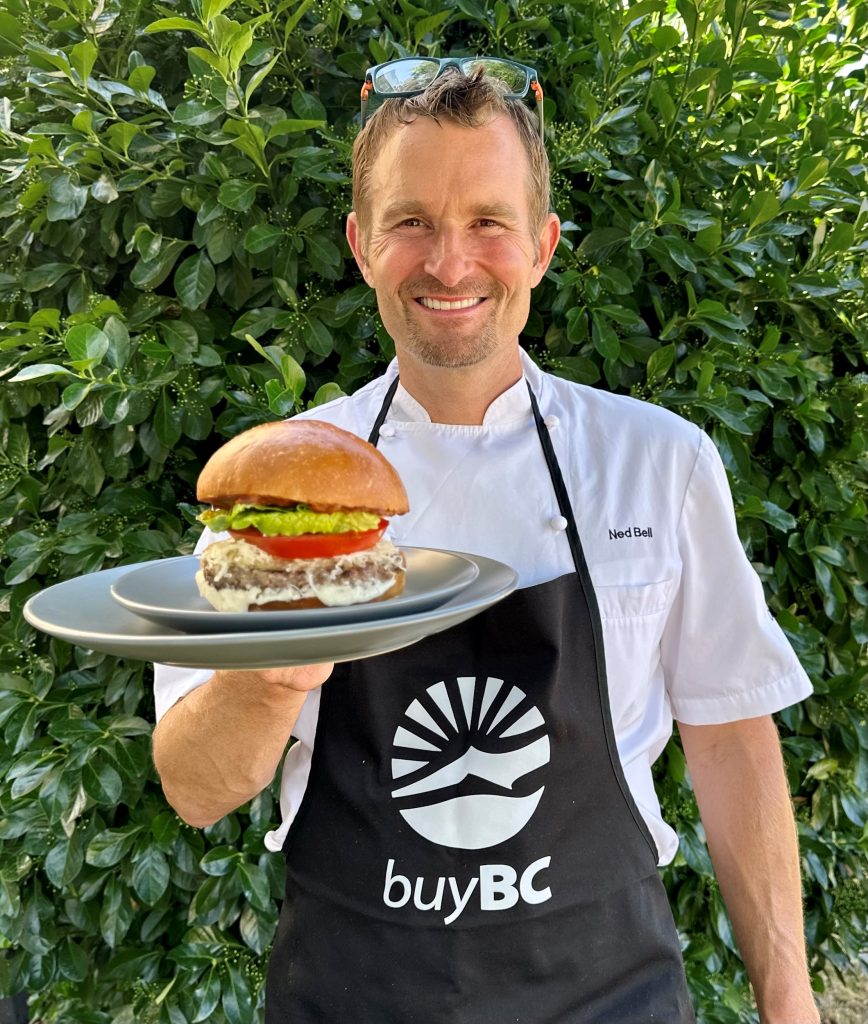 Ingredients:
63 Acres Beef Patties – I love searing my patties in a cast iron skillet, but using a BBQ is also a fantastic way to enjoy BC beef with family and friends. You could make your own patties or purchase premade ones. Pro-tip: Make sure the size of the patty matches the bun.
Tomato Ketchup – I love this recipe, and it's incredibly versatile. 5 cups chopped canned diced tomatoes (you could also use fresh), ½ cup red wine vinegar, ½ cup BC honey (or brown sugar or maple syrup, the flavour will change but it will be delicious), 3 tbsp kosher salt, 2 tbsp tomato paste, 1 tsp cracked black pepper.
Simmer all ingredients in a small pot over medium heat for 20 minutes until most of the liquid is reduced. Puree until smooth, set aside and cool. This tomato ketchup is great with burgers, grilled meats, or cheese.
Horseradish Mayo – 1 cup mayo, 2 tbsp horseradish, squeeze of lemon, 1 tsp Dijon mustard, ½ tsp kosher salt, 5 cracks of black pepper. Optional: 1 tbsp thinly sliced chives or green onions.
Mix everything together and store in the fridge. I love this sauce on grilled meats or fish.
Cheese – BC is home to a wide variety of delicious, locally made cheeses using 100% Canadian Milk. I love sharp, tangy BC cheeses on my burgers. Some other great options are aged farmhouse, Courtenay cheddar, gouda, or havarti.

Tomatoes – BC Greenhouse grown tomatoes are a consistent and delicious choice. Greenhouses are incorporating innovation in the agricultural industry and supporting the future of BC's food supply. We can grow 10 to 20 times the number of vegetables on the same area of field, feeding people healthy, fresh vegetables virtually year-round.

Buns – I love Terra Breads Brioche Buns. They're a slow-rise bun crafted over several days, hand shaped, and baked daily. You can purchase them at Terra Breads Bakery + Café locations in Vancouver.
Assemble the burgers after cooking, eat and enjoy.
There's never been a better time to Buy BC and support the growers, producers, and the food we love from here at home and this BC Beef burger is a great way to support four different industries.
Chef Ned Bell