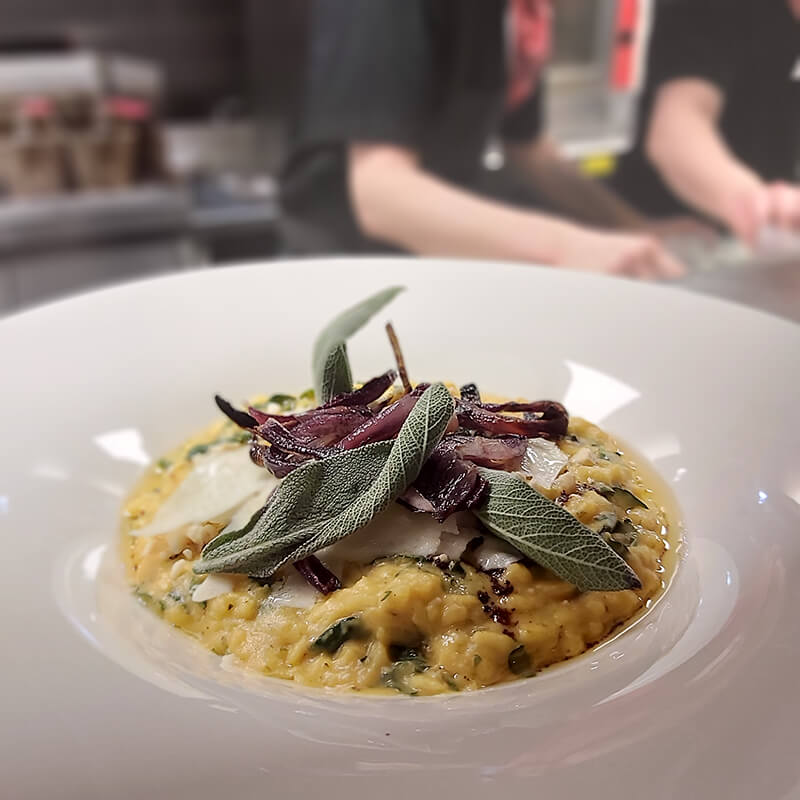 Recipe can be scaled to any size. This recipe makes four portions.
Ingredients
Squash Puree:
1 cup butternut squash, diced
1 shallot, quartered
2 cloves garlic
Olive oil
Salt
Pepper
Vegetable/chicken stock
Risotto Base:
2 cups arborio rice
1 shallot, finely chopped
Olive oil
White wine
Vegetable/chicken stock
2 tbsp cold butter
2 tbsp pecorino cheese, grated
Garnishes:
Roasted red onion
Brown butter
Pecorino cheese
Toasted hazelnuts, crushed
Sage
Method
Squash puree: On a small sheet pan lined with parchment place squash, shallot, and garlic. drizzle with olive oil and season with salt and pepper. Roast at 375 for approximately 15 minutes, or until the squash is tender and all the ingredients have started to caramelize. Once roasted add all the ingredients to a high-speed blender and blend the squash, shallot, and garlic with enough stock to form a smooth puree.
Risotto Base: Bring stock to a simmer in a small pot. In a separate wide bottom pan heat olive oil over medium high heat, add diced shallots and dry, unrinsed rice to the pan. Sautee the shallot and rice grains until the rice starts to sizzle, starts to have the aroma of toasted nuts. Deglaze with white wine, about 1/4 cup, and reduce heat to medium. Stir the rice constantly until the wine has absorbed. Add a ladle of the simmering stock, stir regularly while the rice absorbs the stock. Add another ladle of stock to your cooking pot and stirring until its absorbed. Continue this process until your rice is about 80% cooked. Add the squash puree and continue to stir and cook the rice until it is al dente. Add 2 tbsp of cold butter and 2 tbsp of grated pecorino. stir to combine. The risotto should still have enough liquid so that it slowly levels out after being stirred in the pot, if the risotto it stiff add a bit more stock.
To plate: Split the risotto between four plates. Top each with a spoon full of melted brown butter (butter that has been heated until the milk solids caramelize) roasted red onion, crushed hazelnut, shaved pecorino, and fresh sage. Enjoy.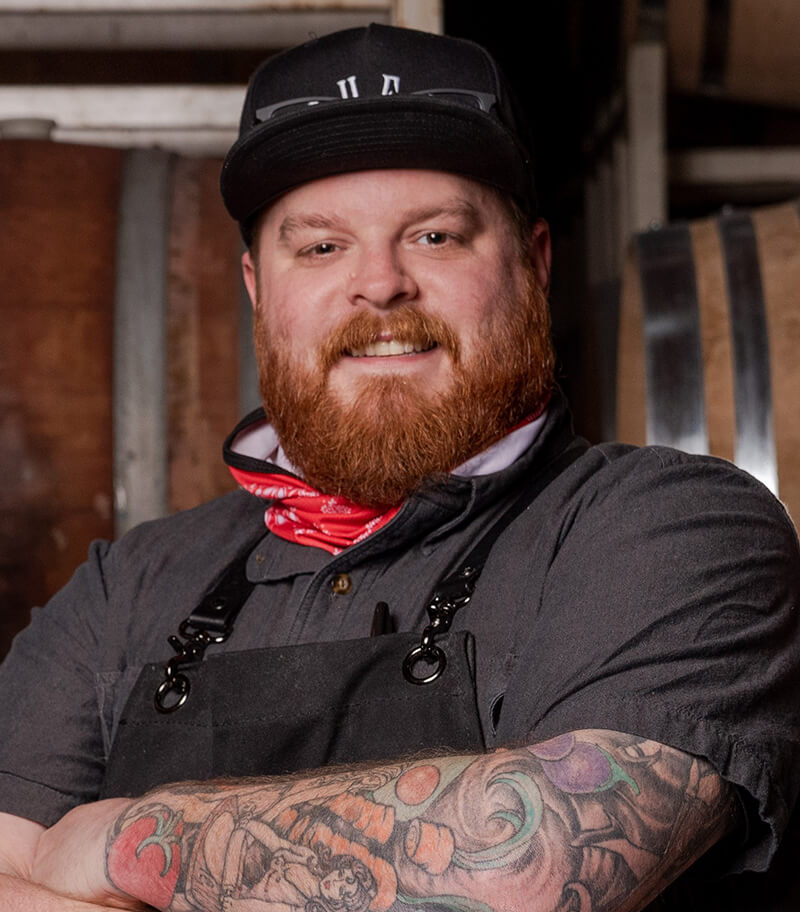 Chef AK Campbell
This fall Chef AK Campbell is excited to be incorporating B.C. butternut squash into his recipes. Chef AK recommends the Butternut Squash Risotto paired with the Chronos 2020 Viognier. The creamy and savoury risotto pairs perfectly with the light bodied Chardonnay's crisp apple, lime and peach flavours.