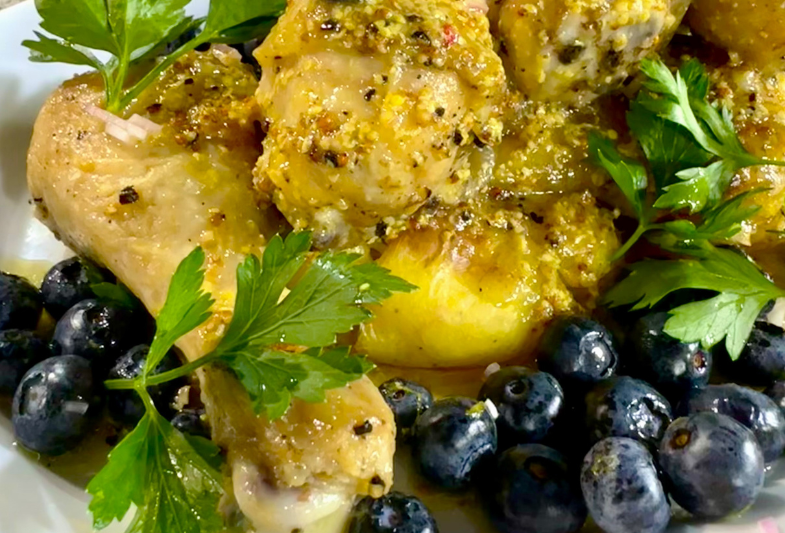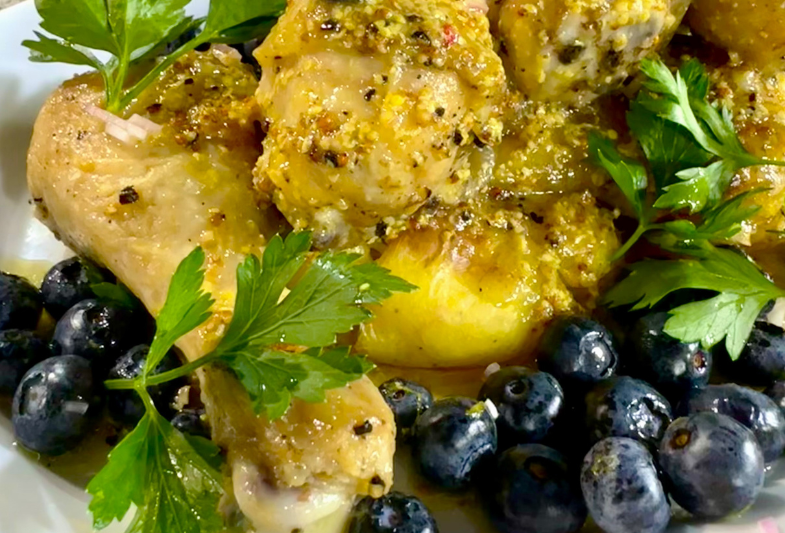 B.C. chicken served with a local blueberry relish, and a B.C honey apple cider dressing.
By Chef Ned Bell
Total time: 45 minutes
Servings: 4-6
Ingredients:
Chicken:
2 lbs BC Chicken (debone into breasts, legs and thighs) or buy deboned pieces
½ lemon
½ cup salted butter
½ tbsp cracked black pepper
1 tbsp kosher salt
2 tbsp olive oil
1 sprig fresh thyme
2 garlic cloves (crushed)
Blueberry Relish:
1 pint BC Blueberries
1 small shallot (minced fine)
1 lemon (juiced and zested)
-¼ tsp salt
Honey Apple Cider Dressing:
½ cup honey
¾ cup apple cider vinegar
1 cup olive oil
2 tbsp kosher salt
1 tbsp cracked black pepper
3 tbsp grainy mustard
Crushed Potatoes:
¼ cup finely sliced chives
½ cup olive oil
1 cup BC sour cream
2-3 tbsp grainy mustard
2-3lbs BC nugget potatoes
Method:
For the chicken:
Preheat oven to 375 degrees (F).
Season the chicken with salt and pepper. Once your pan is hot, sear the chicken, skin-side down, in olive oil for 5 minutes until golden brown.
To the same pan, add the garlic, thyme, and lemon, then place the pan in the oven for 20 minutes.
While the chicken cooks, prepare the potatoes (specifically steps 1-2 below).
After 20 minutes, flip the chicken over and cook in the oven for another 10 minutes.
Take the pan out of the oven and add the butter. Baste the chicken (with a large spoon or baster) for 5 minutes until the butter froths and turns brown/beurre noisette (take care not to burn the butter! Brown, not burnt, butter will impart a delicious nutty flavor).
Set the chicken aside to rest, covering with aluminum foil, while you prepare the relish, dressing, and complete potato steps 3-7.
Blueberry Relish:
In a bowl, toss together the blueberries with the lemon juice and zest, salt and minced shallots.
Dressing:
In a blender, mix all the ingredients together until emulsified.
Crushed potatoes:
Heavily salt a pot of water and bring to a simmer before adding the potatoes.
Cook the potatoes until tender, then strain and set aside to cool (do not run under cold water, allow them to air dry to cool).
Once cool, slightly crush the potatoes by pressing each one down with the palm of your hand on a cutting board, ensuring they stay intact.
Preheat a heavy bottom pan over medium-heat then season the potatoes with salt and pepper.
Once the pan is hot, add olive oil, then the potatoes, pan-searing until they become crispy and caramelized on one side. Flip each potato and repeat, adding more olive oil if the pan becomes dry.
Once both sides are crispy, remove the pan from the heat and add the sour cream and grainy mustard.
Garnish with sliced chives.
Assembly:
Place the chicken on serving plates then spoon the dressing on top, before proportioning out the relish and potatoes onto each plate.
Enjoy,
Chef Ned, Buy BC Brand Ambassador
---