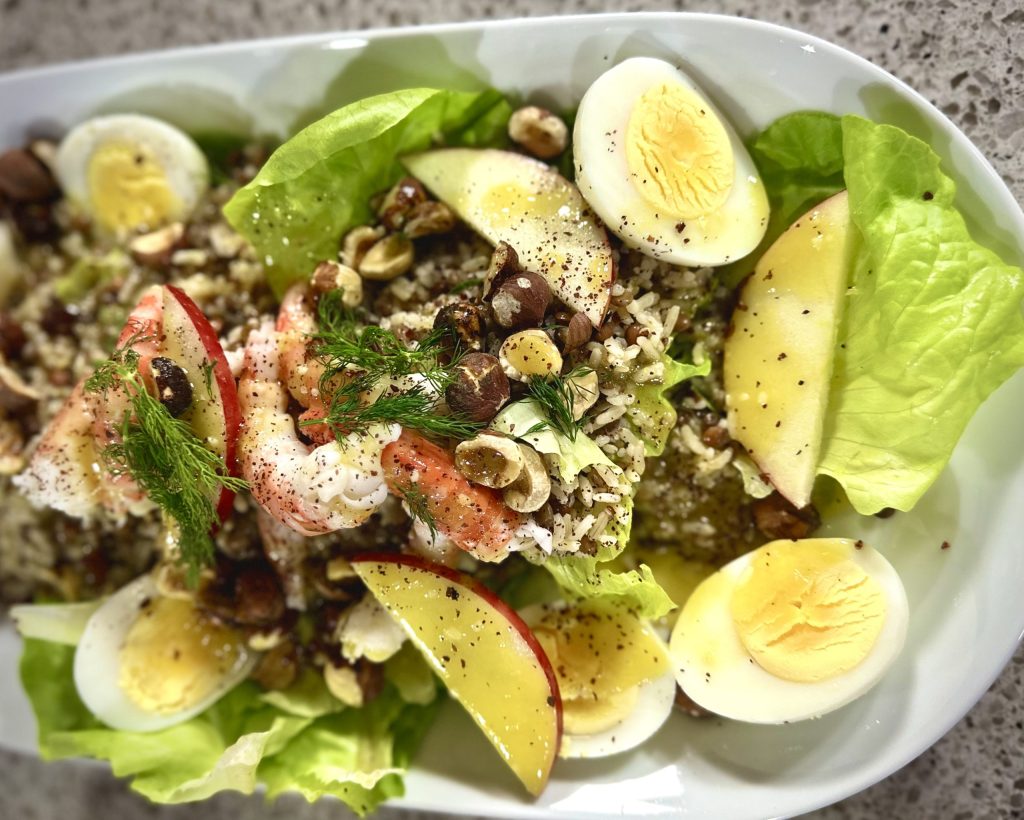 Serves 4 – Perfect for lunch, a picnic or a light dinner.
May and June are Spot Prawn season here in B.C. and it's one of the most celebrated seasons of the seafood year! They are a real treat from Mother Nature and tend to be highly prized, so I recommend buying them fresh right from the fisher monger or the fisher.
I also love buying them frozen, as they are flash frozen in seawater right on the boat after they are harvested. Best part? You can enjoy them all year long.
Ingredients
3 lbs. Wild B.C. Spot Prawns (4/6 prawns per person) – The simplest way to cook Wild B.C. Spot Prawns is to remove the heads immediately after you get them home and quickly poach them in a big pot of boiling water for 30 seconds maximum. Immediately remove them from the boiling pot after cooking and submerge them in ice water to stop them cooking as fast as possible. Peel the prawns and set aside.
4 B.C. eggs (1 per person) – Gently boiled, until just cooked. I like my eggs cooked medium, so they are jammy and tender inside, cool, and peel carefully. They really are the perfect snack and addition to your favourite lunch or dinner recipes.
8 cups of your favourite grains, pulses or legumes – Cooked gently in a pot of simmering salted water until cooked through and al dente.
2 cups toasted BC hazelnuts – A delicious heart healthy source of protein and rich in vitamins, minerals and antioxidants. Toasted in a 350-degree oven on a parchment paper lined baking tray for 10-12 minutes.
Miso, Honey and Lemon Vinaigrette
3 tbsp miso
3 tbsp honey
3 tbsp Dijon mustard
½ cup fresh lemon juice and zest
1 tbsp kosher salt
¼ tsp sumac
½ cup extra virgin olive oil
½ cup canola oil
Method:
In a bowl, whisk together the miso, honey and Dijon mustard.
Add the lemon juice, zest, salt and sumac.
Add the oils and whisk together slowly until incorporated.
To Build the Dish:
I like to serve this as a salad, shared family style or solo.
It's also a great lunch, dinner or picnic for a busy meal on the go.
Choose some great local lettuces, add the grains, the egg cut in half and seasoned with salt and sumac, the spot prawns, the vinaigrette and then garnish with the hazelnuts and some seasonal fruit.
Perfect Pairing:
Bartier Bros Rosé Piquette
Enjoy!
Chef Ned Bell