Kaslo Sourdough
For the last thirty years the second-generation family business behind Kaslo Sourdough has transformed people's expectations of wheat and wheat-based pastas.
"My dad devoted his life to studying natural fermented foods, especially anything and everything to do with sourdough," says Heidi Lettrari, General Manager at Kaslo Sourdough. "My siblings and I grew up in this environment of sourdough, natural fermentation, and living bacteria."
Kaslo Sourdough's sourdough pastas are made with a natural sourdough bacterial culture and are known for their rich flavours and digestive benefits. Over the past nine years, Kaslo Sourdough has delivered wholesale sourdough pastas from Kaslo, B.C. all the way across North America.
With support from the BC Government's Buy BC Partnership Program, Kaslo Sourdough has redesigned their product packaging to take the brand to the next level. Their colourful and iconic packaging is as recognizable as ever – though now with the new Buy BC logo.
"Since adding the Buy BC logo, we have seen more sales, and more direct online orders from our online store from individuals, as well as more connections on social media and comments that people love that our sourdough pastas are a Canadian-made and B.C.-made product. The logo helps drive this home for customers."
Through comprehensive online marketing efforts, Kaslo Sourdough is ensuring local foodies and health food enthusiasts can learn more about their signature pastas.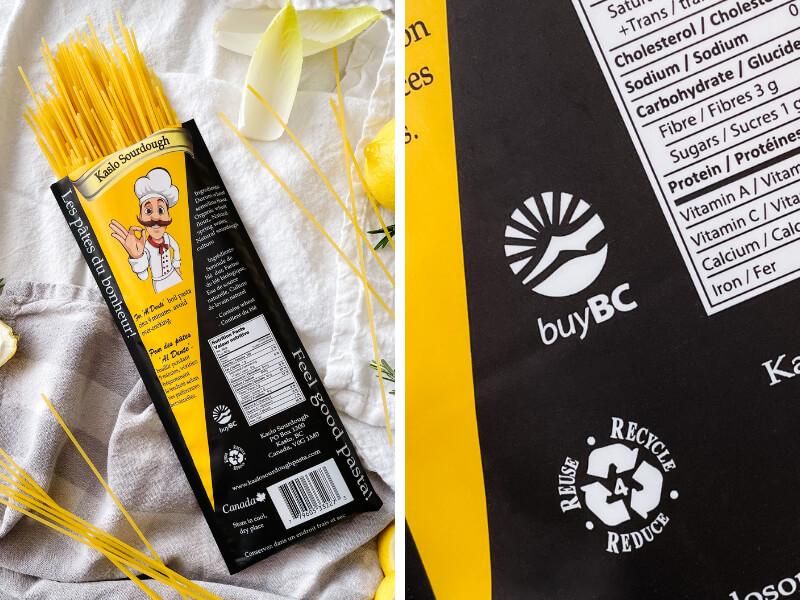 Heidi's Key Takeaways:
People like to know the people behind a business – it reinforces the idea of supporting a local company like ours.
Finding the right balance of transparency and sharing our stories through media like on our website and in our newsletters has been really helpful for building a strong following and community around healthy living and healthy food options like our sourdough pastas. For us, the Buy BC brand messaging has helped convey and support these ideas.
About the Company: Kaslo Sourdough
Kaslo Sourdough is a family owned and operated sourdough bread and pasta manufacturing company located in the West Kootenay region of B.C. They have been in business for almost 30 years, producing high quality sourdough products.
Participating in the Buy BC campaign has enabled them to grow their reach and share their passion for high quality fermented foods with those close to home in B.C. communities.
Location: Kaslo, B.C.
Website: kaslosourdoughpasta.com
---
Buy BC Acknowledgment
This project was supported by the BC Government's Buy BC Partnership Program to support the demand and sales of B.C.'s food and beverage products across the province.
Learn more about how Buy BC can help you here.