Rustic elegance on nature's edge – local, sustainable, tasty food on Tofino's rugged west coast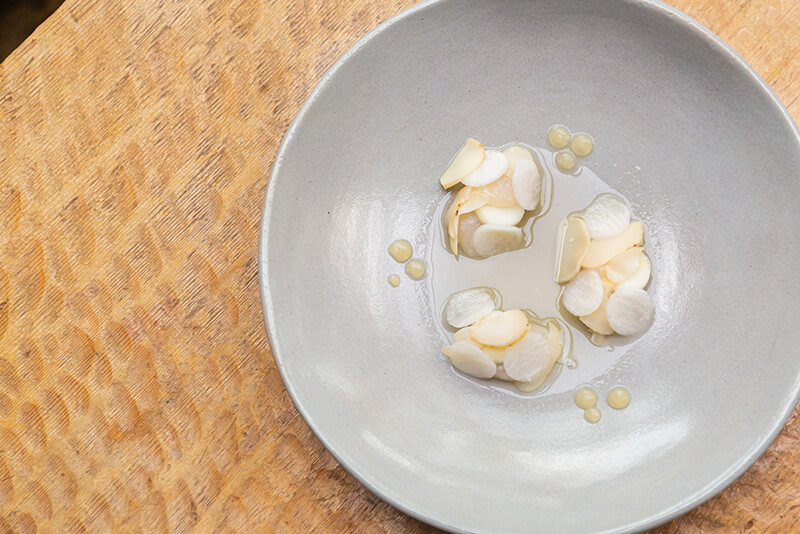 Photo: Scallops – Early October Tasting Menu
Built upon a family dream and above the craggy coastal shore of Chesterman Beach in Tofino, the Wickaninnish Inn — elegantly accompanied by The Pointe Restaurant — has garnered international acclaim for its sustainable vision and support of local food from the start in 1996. A place of serenity surrounded by wilderness and the rugged sea, the location is steps from the beach and offers unparalleled access to the true nature of Vancouver Island's west coast. When you dine there, you feel like you are experiencing the majesty of the sea and the bounty of the land.
Twenty-five years in, it is one of Canada's few Relais & Chateaux destinations, most recently applauded in as both a World's Best Top 100 Resort by Travel+Leisure and a Top Resort in Canada by Condé Nast Traveler in 2021.
A Tofitian Family Dream
The dream was born nearly half a century earlier, when Charles McDiarmid's father first moved to the Tofino area in the 1950s and fell in love with the rugged beauty of the peninsula jutting northward from the west coast of Vancouver Island.
Born and raised Tofitian, Charles connected with his father's dream of starting a world-class luxury inn and it led him to exploring a career as a hotelier. Recruited by the Four Seasons Hotels and Resorts to work in various cities across North America, he spent 13 years of mastering his craft before he returned to the Pacific Northwest.
With a firm plan to turn the family dream into reality, his five word vision—"rustic elegance on nature's edge"—took form, crafted into a 45 guestroom luxury resort in Tofino with an impeccable attention to sustainability—and a restaurant wed to the same principles. The popular inn, set on over 100 acres of oceanfront property, preserves the natural beauty of the site and incorporates natural elements in its design with local cedar, driftwood and stone in the design.
A Vibrant and Venerated Landscape
That philosophy is well fitted to Tofino and its surroundings. Situated within the traditional territory of the Tla-o-qui-aht First Nation, the landscape is both ancient and alive, prized for the profound biodiversity that predominates. From the towering old growth rainforests dripping from above to the quiet inlets and tidal pools eddying along the coastal peninsula, the UNESCO Clayoquot Sound Biosphere Region offers an experience to be found nowhere else in Canada.
At the Wickaninnish Inn and Pointe Restaurant, capturing that wild essence and making the experience edible, has been the purpose all along.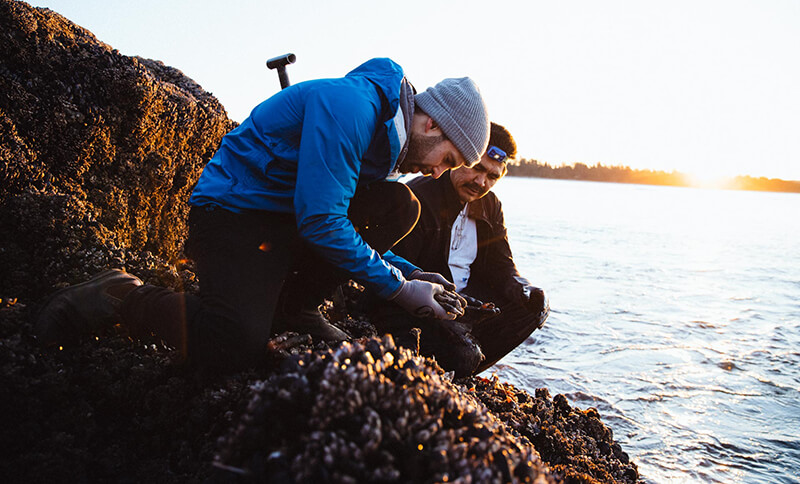 Photo: Evaluating the Ocean's Bounty