Chef Ned Bell
~Ocean Wise Executive Director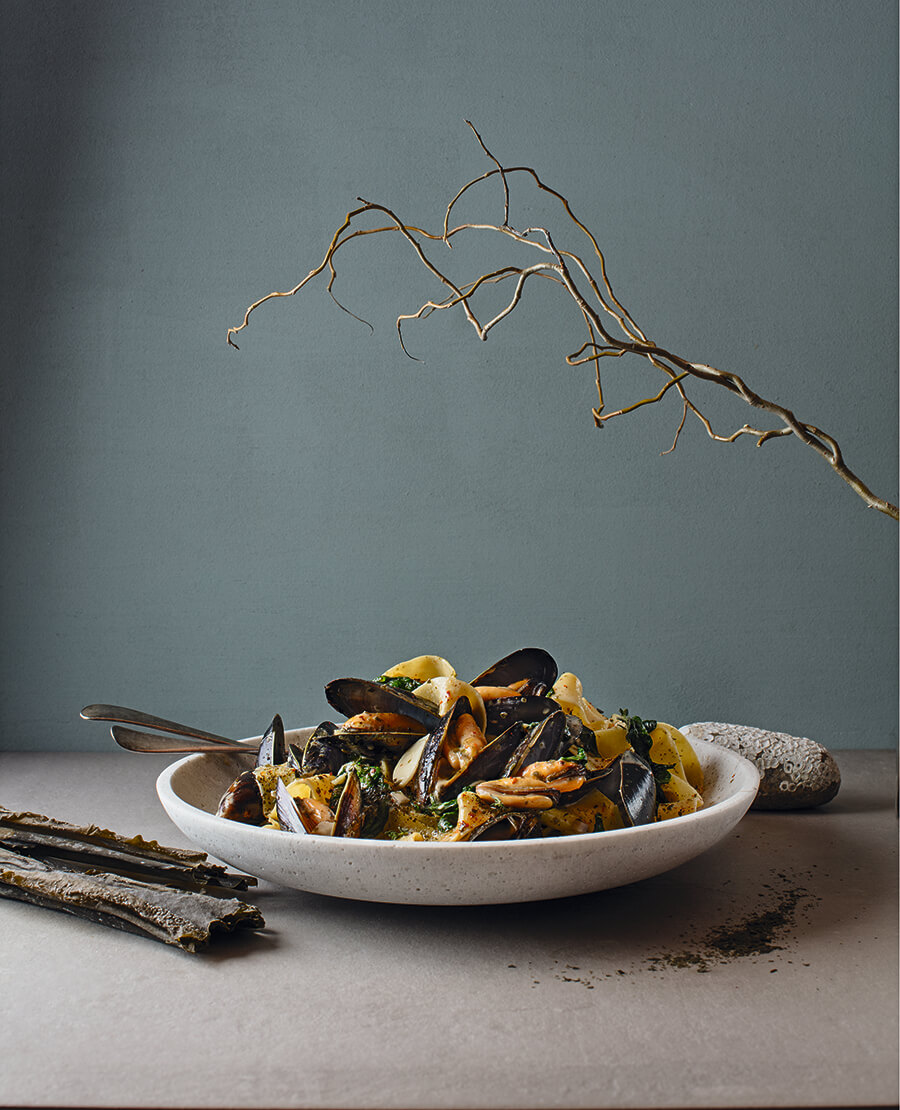 Photo credit: Kevin Clark
This pasta dish is rich, creamy and full of umami, thanks to the kelp in the bright-green cream sauce and garnish. Ask your fishmonger to source fresh curly kelp for you. You can find dehydrated bull or winged kelp at health food stores. Once added to the sauce, it rehydrates to a spinach-like texture in less than a minute.
Serves 4
Ingredients
Kelp cream


1/2 Tbsp canola oil




1/2 shallot, finely chopped




1 small clove garlic, finely chopped




1 bird's-eye chili, seeded and finely chopped




1 1/2 cups whipping (33%) cream, plus extra if needed




1 cup fresh kelp or 1/3 cup dried bull or winged kelp, rinsed (if dried, soak in warm water for 10 minutes)




Grated zest of 1/2 lime




1/2 tsp sesame oil




Sea salt, to taste



Mussels and pappardelle


3 lbs live mussels




1 lb dried pappardelle or fettuccine




2 Tbsp extra-virgin olive oil




2 Tbsp unsalted butter




2 cloves garlic, finely chopped




1 shallot, finely chopped




1/4 cup white wine




3 Tbsp sliced fresh basil




3 Tbsp dried crushed bull or winged kelp (see headnote)




Grated zest and juice of 1 to 2 lemons




1 tsp crushed red pepper (optional)



Method
Kelp cream


Heat oil in a large saucepan over medium heat, add shallots and garlic and sauté for 30 seconds, until fragrant. Add remaining ingredients except salt, bring to a simmer over medium heat and cook for 5 minutes. Remove pan from heat and cool lightly.




Transfer mixture to a blender or food processor and process until smooth. Strain purée through a fine-mesh sieve. Thin out, if desired, with a little extra cream. Season to taste with salt. (Can be made ahead and refrigerated.)



Mussels and pappardelle


Put mussels in a colander and rinse under cold running water. Discard any that are open and won't close when tapped or that have broken shells. Scrub off any debris and pull off beard. Keep chilled until needed.




Bring a large saucepan of salted water to a boil over high heat and add pasta. Cook until al dente, according to manufacturer's instructions.




Meanwhile, heat oil and butter in a large frying pan over medium-high heat. Add garlic and shallots and sauté for 5 minutes, until tender and translucent. Pour in wine and bring to a boil.




Add mussels, cover and cook 2 minutes, just until the shells open up. Discard any that don't open. Add kelp cream and cook for another 2 minutes, until warmed through. Stir in basil, dried kelp, lemon zest and juice and crushed red pepper (if using).




Drain pasta and stir it into pan of mussels. Transfer to a large serving bowl and serve family style.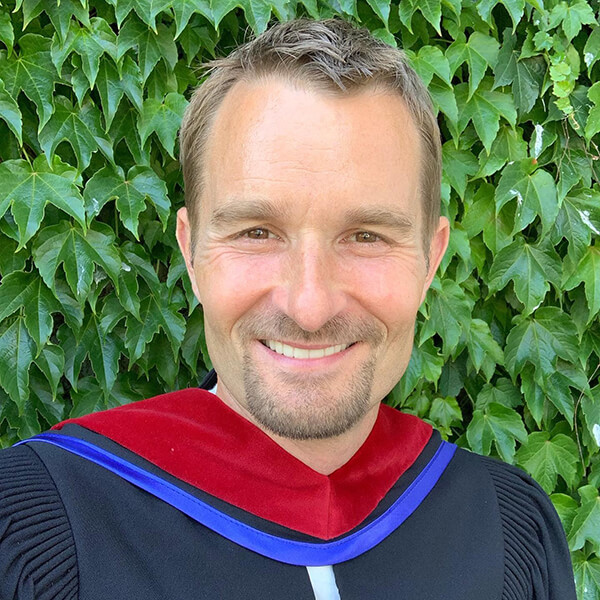 Chef Ned Bell
Ned Bell is a chef advocate, keynote speaker, educator and founder of Chefs for Oceans. Bell's interests and talents have led him to his current roles as Ocean Wise Executive Chef, Culinary Director of The Vancouver Club, Fellow of The Royal Canadian Geographical Society, Chef Ambassador for International Year of the Salmon and author of best seller – Lure: Sustainable Seafood Recipes from the West Coast.
Bell's ability to excite, inspire and educate individuals and industry wanting to make a broader commitment to sustainable seafood has made him a much sought-after chef, speaker and change-maker. Bell effectively combines his love of great ingredients, culinary skills, and infectious enthusiasm with a passion for elevating the conversation of this crucial environmental issue. He continues to earn recognition for his ability to influence consumers, industry, media and government through clear, and often deliciously illustrated, education that supports the long-term health of the world's oceans, lakes and rivers. There's nothing he loves more than uniting and collaborating with chefs, fishermen, farmers and influencers across the globe where he has made an impact all over Canada and the USA, as well as China, Vietnam, Japan, Europe and South America.
Bell most recently joined the table at the United Nations headquarters in New York to engage his Chefs for Oceans platform in awareness initiatives leading up to him cooking for the UN's General Assembly in New York this September. Bell's also on the ticket as a lead presenter at the UN's Oceans Conference in Portugal in 2020.
Through his culinary network, Bell is also working with the James Beard Foundation's Smart Catch program through their continued series of Impact Events. As a Chef Member of the Monterey Bay Aquarium's Seafood Watch, Blue Ribbon task force Bell will be a keynote speaker at events in Portland later in this year. Bell is delighted to learn he will be presented with an Honourary Doctorate degree in Technology from Vancouver Island University this summer, to recognize the exceptional leadership he has demonstrated in the sustainable seafood arena. Other significant accolades include receiving Food Service & Hospitality magazine's Pinnacle Award for Chef of the Year (2015) and leading a multi-chef sustainable seafood celebration at James Beard House (2017) and SeaWeb Seafood Summit Global Champion Award (2017)
As Executive Chef for Vancouver-based, global program, Ocean Wise, Bell makes an impact through education, advocacy and culinary experiences with his peers across North America. Ned founded Chefs for Oceans in 2014 to raise awareness and advocate for responsible seafood choices and the importance of supporting healthy oceans, lakes and rivers. He launched this commitment with an 8,700km bike ride across Canada, staging dozens of awareness building events along the way. Bell's commitment to seafood stewardship has skyrocketed ever since.
As a father of three sons, Bell has dedicated himself to inspiring and educating people to become part of the solution for healthier oceans for today's children and all the generations to come.