Chef Akira Kishimoto
~Kishimoto Japanese Restaurant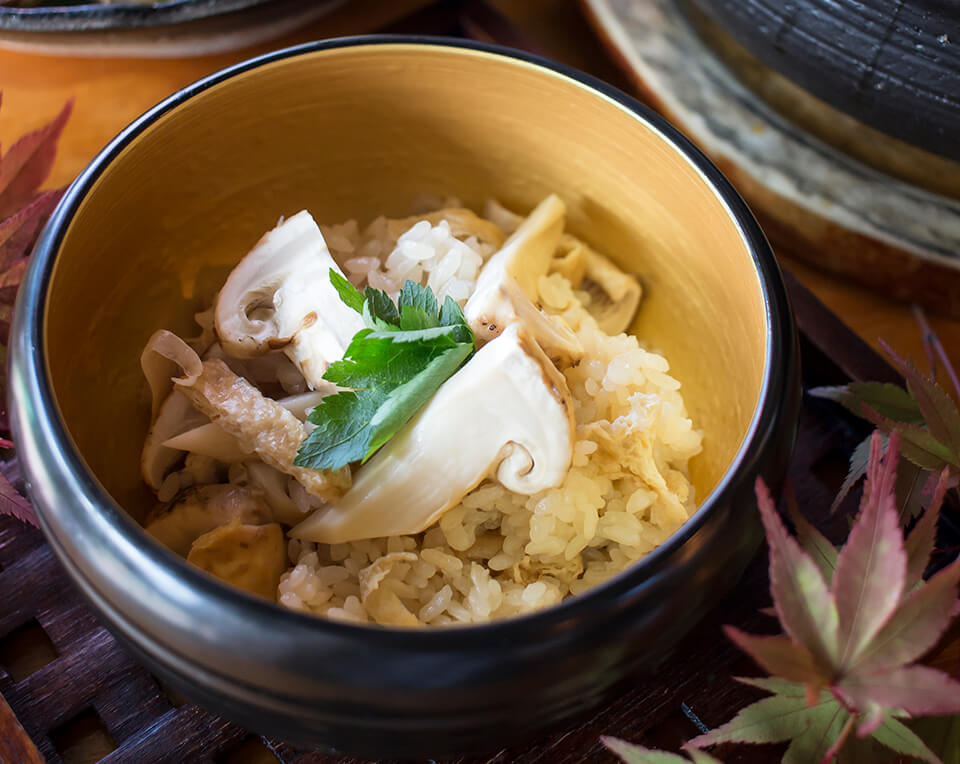 This is a very authentic and traditional autumn dish that I look forward to every year. We usually make it at home or enjoy it together with the restaurant's staff. It's very easy to make at home, and can be enjoyed on its own or as a side to other Japanese dishes.
The focus is on the pine mushroom's delicate flavour and scent, it has lots of umami. We are very lucky to have local pine mushrooms here in B.C. – they are quite the delicacy in Japan! Most ingredients can be purchased at your local Japanese or Asian grocery store.
Ingredients


450 ml short grain rice




450 ml water





2 tsp dashi powder




40 ml usukuchi shoyu (light soy sauce)




30 ml hon mirin





30 ml cooking sake




1 or 2 pieces of usu-age (fried tofu puff), sliced




2 large matsutake mushrooms





1 piece of dried kombu, around 4 inch (optional, but adds more umami to the rice)





A few sprigs of mitsuba (if you can't find it, you can use flat leaf parsley instead) for garnish



Method


Wash rice gently 3 times, and set aside in a strainer.




With a damp paper towel, remove dirt from matsutake. Peel off some of the skin on the 
 bottom of the stem and cut the tips off. With you hand, rip the matsutake lengthwise into 
smaller pieces.




Combine the water, dashi powder, shoyu, mirin, and sake in a sauce pan on medium heat and bring to a simmer. Remove from heat and set aside.




In a rice cooker, add the rice and then pour in the liquid from the sauce pan.




Place the piece of dried kombu on top of the rice in the center, and then arrange the ripped matsutake and sliced usu-age evenly on the top.




Cook the rice on regular setting.




After the rice has finished cooking, open the lid and remove the piece of kombu. Gently mixed the rice from the bottom up, being careful not to mash the grains 
 and ingredients.




Serve immediately with chopped mitsuba on top.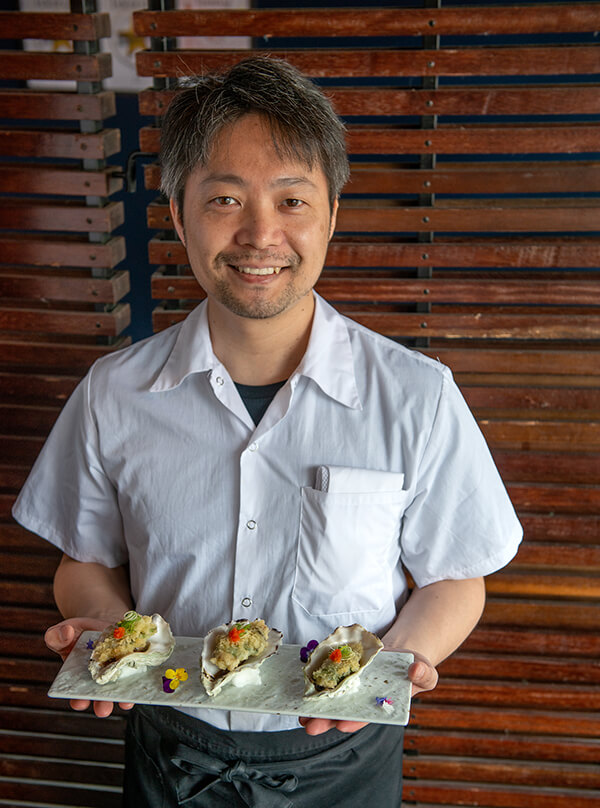 Chef Akira Kishimoto
Chef Akira Kishimoto has over 20 years of experience as a Japanese chef. He started his career at the age of 18, working in restaurants in Osaka and Kyoto. In 2011 he opened Kishimoto with his Canadian wife, Jyan. Chef Kishimoto is very passionate about Japanese cuisine and loves to share his food and culture with others.
Kishimoto is an award winning casual Japanese restaurant located near 4th and Commercial Drive in Vancouver, B.C. We use local and seasonal ingredients as well as freshly caught fish and seafood from Toyosu Market in Tokyo. On the menu you'll find unique yet authentic dishes, familiar favourites and BC wines, local and import sake and beer. We also offer a special limited kaiseki (seasonal tasting menu) on weekends.