Chef Albert Tran
~Edible Canada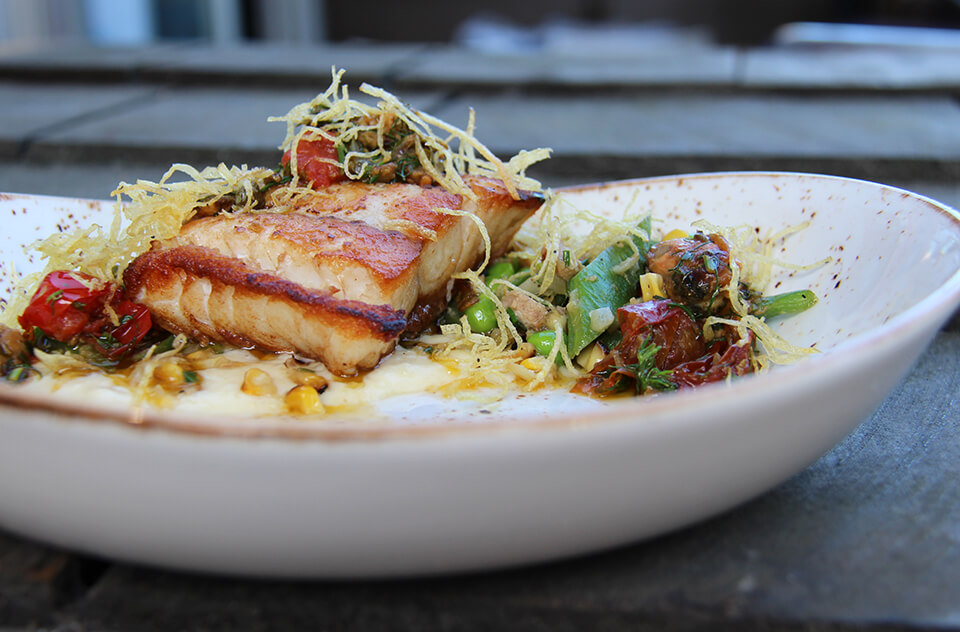 Photo credit: Leila Kwok
Ingredients


Ling Cod, cleaned, portioned 450g



Potato puree


Yukon Potato 400g




Cream 100g




Salt 25g



Succotash


Bacon, slice 1 inch strip 100g




Corn kernel 80g




Potato, 1/4 dice 200g




Green/wax beans, 1 inch 150g




Fennel bulb, small 1/4 dice 100g




Parsley, chopped 10g




Basil, chopped 5g




Salt 10g




Lemon juice 15g



Shellfish Vierge


Olive Oil 200g




Butter 50g




Bay leaves 5g




Thyme 5g




Shallots, fine dice 125g




Garlic, finely chopped 25g




Cherry tomato, halves 100g




Clams, cooked, picked 80g




Mussels, cooked, picked 80g




Lemon 2 halves




Parsley, chopped 50g




Chives, chopped 50g




Basil, chopped 20g



Potato sticks


Potato, thin matchsticks 150g




Frying oil 5 litres



Method


In a Medium pot, place potato and fill with water, bring to boil and simmer until tender. With a potato ricer, pass the cooked potato into a small pot, add the heated butter and cream mixture and fold until smooth.




In a separate small pot, place the cream, butter salt, bay leaves and thyme and bring to simmer and allow to infuse for 30 mins




In a pan, medium heat, render bacon until 80% cooked, add potato, cook for 10mins approx., add fennel and corn and cook for another 4 minutes on medium heat, add beans, cook for 2 minutes. Finish with lemon juice, herbs and salt.




In a small pot, add the olive oil, shallots, garlic and simmer on medium heat until shallots are translucent. Add cherry tomatoes, picked shellfish and lemon juice and bring to simmer for 1 minute. Finish with fresh herbs.




Add the frying oil to a large pot and bring to 300*f. Fry potato matchsticks until gold brown. Salt immediately out of the oil. Lay on paper towel absorb excess fat.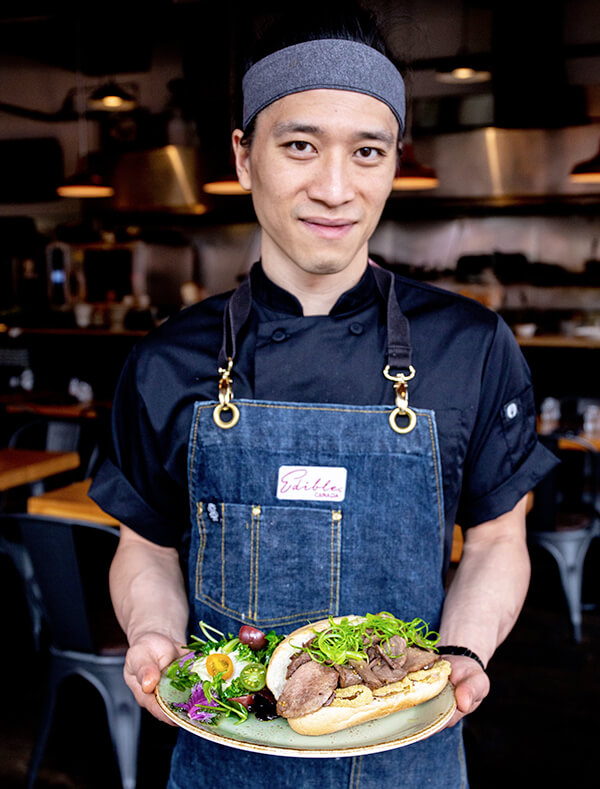 Photo credit: Leila Kwok
Chef Albert Tran
Before deciding to pursue cooking as a career, Albert Tran was learning the ropes at home watching his Mother cook traditional Vietnamese and Chinese cuisine in Ottawa. Cooking has always been a big part of his life, earning his first wages in high school cooking on food trucks and local neighbouring Vietnamese restaurants. It seemed only natural then to transition into a professional career in cooking, receiving his diploma in Culinary Management from Algonquin College.
Albert is always inspired by the culinary stories the region has to tell. His experience spans from modern Japanese in Ottawa and Spanish influences in Montreal to contemporary French and regional seafood inspired cuisine on the Marina in Victoria. Most recently Albert has enjoyed working with the freshest local, seasonal and sustainable ingredients of BC's Coastal Islands at Sonora Resort, a Relais & Chateau Five Star Luxury property. Preparing freshly caught spot prawns, urchin, crab, sturgeon and salmon directly from the ocean outside the kitchen doors gave Albert a new perspective he hopes to continue to be inspired by. He has always had a great love for the discipline of the kitchen, the playfulness of creative plating and the tried and true fundamental techniques.
Albert is enthusiastic and eager to share his passion with Edible Canada and continue to grow. He brings his knowledge of BC's sustainable seafood and seasonal farm to table ingredients to the plate.