Chef James Walt
~Araxi Restaurant + Oyster Bar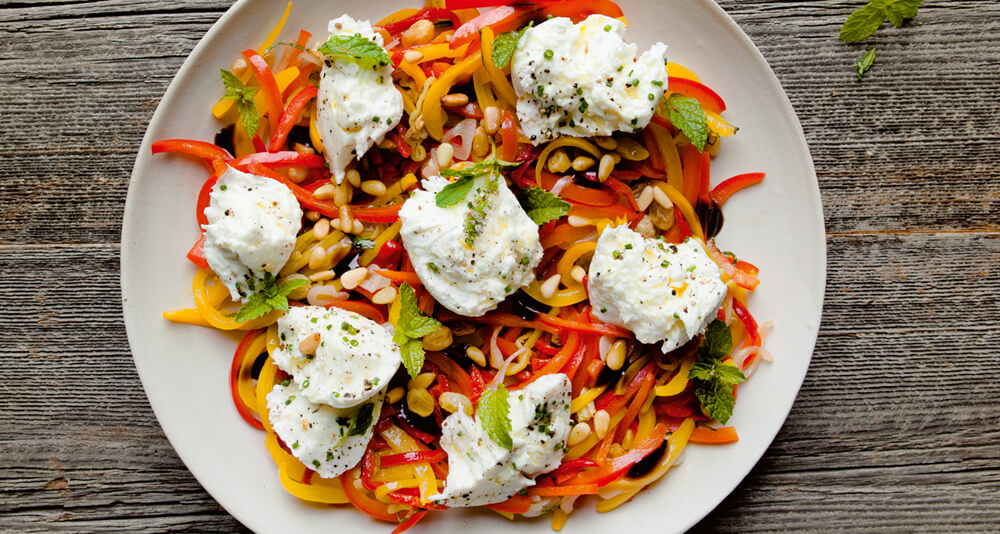 Nothing says summer to me like this dish. The peperonata keeps well for three to four days and actually tastes better the day after it is prepared. Serve it with some good crusty bread and a quality buffalo mozzarella. Look for this soft cheese – we make some great ones here in Canada – in most cheese shops, deli counters or Italian grocers.
Ingredients


1/3 cup + 3 Tbsp extra-virgin olive oil




6 shallots, thinly sliced




2 cloves of garlic, thinly sliced




3 large bell peppers (1 red, 1 yellow, 1 orange), seeds removed, thinly sliced




1/2 cup sherry vinegar




1/4 cup raisins, soaked in warm water until plump, then strained




2 Tbsp granulated sugar




Sea salt and cracked black pepper to taste




1/4 cup pine nuts, toasted




10 mint leaves, very thinly sliced




5 balls buffalo mozzarella, each 4 to 5 oz, cut into quarters




2 Tbsp balsamic crema or balsamic vinegar




2 sprigs fresh mint, for garnish



Method


Heat the 1/3 cup olive oil in a medium saucepan on medium heat. Add the shallots and garlic and cook until soften and translucent, about 5 minutes. Stir in the peppers and cook until softened, 8 to 10 minutes, then add the vinegar, raisins and sugar. Cook until the vinegar has evaporated, 4 to 5 minutes, the remove from the heat and season with salt and pepper.
Once the peperonata has cooled, fold in the pine nuts and mint. Mix thoroughly and check the seasoning. Arrange the peperonata on a serving platter.
Place the buffalo mozzarella on the peppers, drizzle with the 3 Tbsp olive oil and the balsamic crema (or balsamic vinegar), and season with salt and pepper. Garnish with some fresh mint leaves and serve.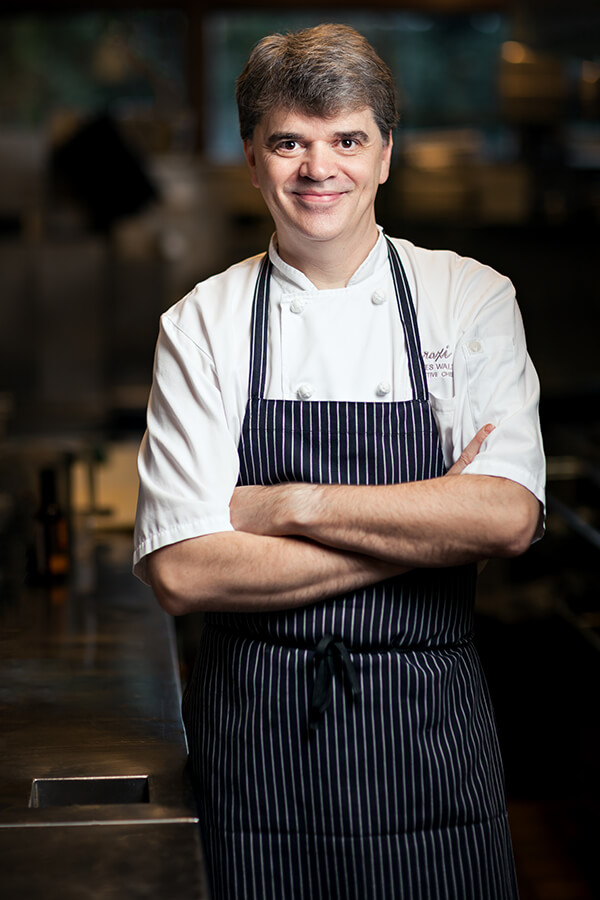 Photo credit: Brandon Hart
Executive Chef James Walt
One of the country's leading chefs, cookbook authors, and a "farm-to-table" pioneer, James Walt continually inspires guests near and far with compelling regional cuisine based on fresh, sustainable ingredients. A graduate of the Stratford Chefs School, his impressive culinary career spans across several of British Columbia's leading restaurants including a four-year tenure at Sooke Harbour House and as the opening chef to sister restaurant Blue Water Cafe in Vancouver. James was also Executive Chef to the Canadian Embassy in Rome, Italy; an experience that has helped shape the way he cooks today.
Voted Best Chef in Whistler by Pique Newsmagazine, James was inducted into the British Columbia Restaurant Association Hall of Fame in 2011 and has cooked at the celebrated James Beard House in New York City on four separate occasions. His passion is a driving force behind Il Caminetto and Araxi Restaurant + Oyster Bar that has led to many recent accolades including Vancouver Magazine Best Whistler Restaurant, Where Magazine's Best Formal Whistler Restaurant, and Top 100 Best Restaurants in Canada in 2017.
As a follow-up to his James Beard nominated first cookbook, James and his team share recipes from Araxi Restaurant's dining room and signature Araxi Longtable Dining Series in the award-winning Araxi: Roots to Shoots, Farm Fresh Recipes cookbook.
James lives in nearby Squamish where he works closely with local farmers and producers and personally selects the freshest ingredients featured on the Il Caminetto menu.